library & Electronic Resources
The Mission of Al-Azhar Al-Sharif is Making Islamic Scholarship and Resources for Learning Accessible to All
The College library has an expanding collection of the major works of Arabic and Islamic scholarship, and is committed to developing a range of electronic and other media to facilitate the teaching of Islamic Studies. Academic faculty of the College are regular publishers of books and papers. The translation of Islamic classical materials into English and accessible dissemination of Islamic learning is a major project of Al-Azhar.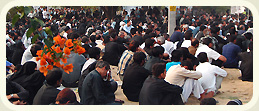 Publications and Projects of the College
Al-Azhar College and the Quran Society publishes Tafsir, the journal of Quranic exegesis, in both online and print format.
Read More