Research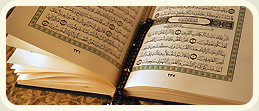 Areas of Research at Al-Azhar and the Al-Azhar InstituTe
Al-Azhar College is a world-class centre for research in all fields of Islamic sciences in the West through its Al-Azhar Institutes.
Fundamental Research by Al-Azhar Builds on Centuries of Islamic Knowledge Enlivening this Classical Patrimony in the Modern Global Context
Core research fields of the College focus on fundamental areas of Islamic scholarship in a Western and international context. These include the classical exegesis of the Quran and the application of Islamic law for minority Muslim communities in the West, the critical exploration of Islamic historical sources and their relevance for healing sectarian divisions in Islam, and comparative approaches to rationalism in Islamic, Jewish and Christian scriptural hermeneutics.
Read More
Dialogue
Al-Azhar Institute for Dialogue with the Monotheistic Religions

In order to advance the work of the Al-Azhar Permanent Committee for Dialogue with the Monotheistic Religions, the Institute was founded by the College as the world's first Islamic academic centre for research and scholarly study of Judaism and Christianity, and interfaith relations.

Dialogue Societies Recognised by Al-Azhar Al-Sharif

Al-Azhar recognises the Catholic Islamic Conference and Children of Abraham.
Read More
Information
"Vestibulum iaculis lacina tor estpron dictumen elementum velit usce euismod..."Mark Johnson
"Sed perspiciatis unde omnis iste natus error sitvoluptatem accusantium lorem..."Bradley Grosh
"Vestibulum iaculis lacina tor estpron dictumen elementum velit usce euismod..."Patrick Pool
"Sed perspiciatis unde omnis iste natus error sivoluptatem accusantium dolorem..."Jessica Priston